Retrieving on-site
fast and easy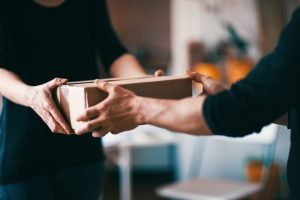 Deadlines are indicated on our website (in French) but don't hesistate to contact us for further informations. Picking up your business cards (for example) from one our shops is the fastest and easiest way because deliveries are always made on the following day. If your business cards are ready on Friday evening, we will be able to deliver them on the following Monday (within Paris) or give them to UPS on Monday only (then wait for delivery). Always tell us the exact date and hour you need your order !

Main agency : small orders are always ready from 18.30 and we close at 19.00. You can come over the following day (Monday to Friday). Large quantities : we will email you once they are ready, there are no special deadlines about them.

Workshops h2copy : order directly with our teams. They will tell you when it is ready. Note that English level of our teams may vary. Our main agency team can deal with any kind of request in English. Bourse workshop (75002) is usually open on Saturday afternoons.
NB : we keep printed orders around a month available. You need us to keep them longer? Please tell us prior ordering.

You cannot pick up an order if this order hasn't been already paid !
Courier delivery
Paris and surroundings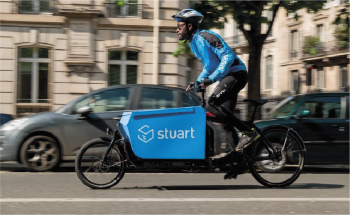 We are ordering courier delivery services always the following day of the longest production time of your orders. If it is ready on a Thursday evening, expect a delivery on Friday prior 16.00. If you are in a hurry, skip the delivery and come on Thursday evening to pick up your order before 19.00 (main agency, please check our contact page for each shop).
Always be very precise with delivery instructions : when clients are not reachable on their phone and we have no instructions to leave the parcel somewhere, the courier company will bill the return of the goods to our shop (second delivery) and we will bill you again a third delivery to send you the parcel again ! Give maximum instructions to avoid any mistake including delivery hours.
We can deliver to hotels but never on trade shows at it is a restricted place. We can deliver to your closest bar or bakery (you have to talk with them first !).
Rules : up to 10kg and less than a meter long : bicycle delivery. Starts from 10 euros + taxes. Heavier or larger orders are delivered by car (from 25 euros + taxes) and for large panels or heavy orders, we use a truck courier service (from 50 euros + taxes). Extra costs may apply for administrative buildings and more than 5 minutes wait.
Prices vary according to your zipcode, shown prices are for Paris city (zipcode 75).
Global delivery
UPS, Fedex and Chronopost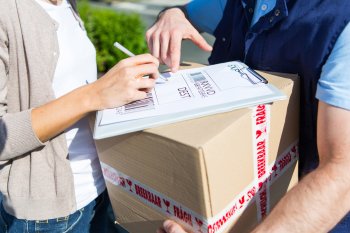 Parcels are given to companies like UPS, DHL, FedEx or others on the following day of avaibility.
If your order is at 6.30pm ready on a Wednesday at the main agency, we will order the pick up of your package on Thursday. Delivery won't happen before Friday (big cities in France) or the following Monday (Europe).
If you require a special day of delivery, please tell us because these company charge differently between a certified day of delivery and a standard delivery (they are not obliged to deliver the day they say they will deliver...).
Deliveries on a Saturday and a Sunday are not possible (Chronopost can deliver on a Saturday in big cities in France, you may ask for a quote in that case). If you are in Paris, we can leave parcels at our h2copy Bourse workshop near the main agency open most of Sundays from 12.00 to 18.00 (always check because on holiday season it is usually closed).

If you want a neutral delivery (our name, address and logo don't appear) always choose Chronopost or Colissimo when ordering online.
We are not responsible for any delays caused by carrier companies : if they are running late you can have a refund only on the delivery which is garanteed (like UPS Saver) and only for the price of shipping, never for the price of goods. We have the tracking numbers if needed, you may recieve one on your email from most of the carrier companies.